Louisiana
Below is a listing of Houses of Prayer in Louisiana. If you know of any Houses of Prayer that need to be added, please contact us by e-mail

at IHOPNetwork@gmail.com

or through the Contact Us page. We are always looking for more Houses of Prayer to list.
---
---

IHOP New Orleans

- New Orleans, LA

http://thecastanzas.com/


Director:

Chris and Stephanie Castanza





138 N. Broad




New Orleans

,

LA

70119





International House of Prayer of New Orleans Missions Base founded January 2012

We are an evangelical non-profit religious organization. We will have staff that are (intercessory) missionaries and raise their own support or work jobs outside of IHOP New Orleans for their income.

The Mission of IHOP New Orleans is to change the spiritual atmosphere of our region through worship and intercession and building night and day prayer in our region. Our hope and desire is to see churches, faith communities and fellowships of believers develop their own personal culture of prayer in order to see night and day prayer arise across the city that revival might break forth in our region.

Weekly, we meet in the directors home in Metairie on Tuesday nights at 7:00 and 138 N. Broad in New Orleans on Saturdays at 6:00. Following both of those worship and prayer sets we have a time of equipping for the saints in our city around a variety of subjects

---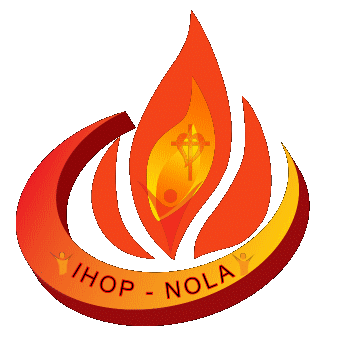 IHOP-NOLA (International House of Prayer New Orleans)

- Westwego, LA

http://www.ihop-nola.com/


Director:

Harold & Erin Moreland


Email:

info@ihop-nola.com


Phone:

504-415-6812





978 Ave B




Westwego

,

LA

70094





IHOP-NOLA (International House of Prayer New Orleans Louisiana), founded in July of 2011 by Harold & Erin Moreland, is a House of Prayer worship center located in the Greater New Orleans area. We are just across the Mississippi River from downtown New Orleans. Corporate prayer & worship is every Saturday evening from 6:30 PM - 8:30 PM, but feel free to join-in at anytime and leave whenever you need and/or what fits your schedule. Each prayer watch consists of a Harp & Bowl worship format along with an intercession/prayer focus and related scripture. We are always looking for those gifted in worship leading, vocal back-up, musicians, and intercessors to join us as we continue to establish Gods House of Prayer in New Orleans. Email us at info@ihop-nola.com or visit us at www.ihop-nola.com for additional information and/or directions to the prayer room. Blessings, Brother Harold Moreland

---

Louisiana Apostolic Prayer Network

- Natchitoches, LA

http://www.prayerfocusministries.com/LAPN.html


Director:

Roger & Charlotte Merschbrock


Email:

pray@prayerfocusministries.com





P. O. Box 7273




Natchitoches

,

LA

71457





The Louisiana Apostolic Prayer Network exists to provide alignment and networking for God?s triumphant reserve in Louisiana for the cause of revival and reformation in our state and nation. We are reminded in Psalm 127:1 that unless the Lord builds the house, they labor in vain who build it... We trust Him to build a house of prayer for Louisiana, to raise up an army of leaders and intercessors to advance His Kingdom throughout every area of society--business, government, family, church, education, media, and arts and entertainment. We have included here an overview of our state to help facilitate effective intercession including the redemptive purpose of Louisiana, prayer direction for 2011, and a brief state history. If you are called to this assignment, may your spirit be quickened to pray and to join the ranks of other prayer warriors God is raising up across the state to ?stand in the gap? for Louisiana!

---

Louisiana House of Prayer

- Monroe, LA

http://www.lahop.com/


Email:

cyndi@lahop.com


Phone:

318-512-0396





511 Roselawn




Monroe

,

LA

71201





At LaHOP we gather as voluntary, lovesick worshippers of Jesus, where our passion for God, calling for intercession, and heart for worship meet with one voice.

Our prophetic community is dedicated to seek the Lord Jesus through fasting, prophetic intercession, and worship.

We provide various teachings and ministry to the sick, broken and disheartened of the world through prophetic soaking prayer, inner healing, and deliverance.

It is our heart to minister with Bridal Intimacy in 24/7 House of Prayer with two hour watches patterned after the Tabernacle of David.

Purposing in our hearts toward the Lord Jesus - "To know Him and to make Him known

---
---
Click here for a complete listing of Houses of Prayer
---
Submit a new listing here.